Deli Department
Delicious!
Our Deli offers fresh and delicious meats and cheeses.
We are known for our tasty homemade salads, sandwiches, and hot-and-ready lunch and dinner options like our popular fried and rotisserie chickens available daily.
You're sure to find something delicious, as our menu changes daily.
>> Looking for information on Party Trays? Visit our Party Planning page.
>> To speak with a Deli specialist, call 952-472-3108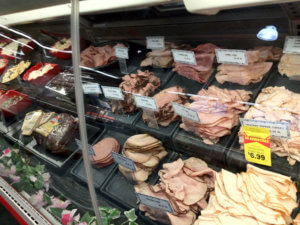 Daily Menu
Our Deli offers hot-and-ready meal selections, made fresh daily.
We've got a new menu every day, so check back often to see what's cooking!
Daily Selection Includes:
>> Corn Dogs
>> Onion Rings & Jo-Jo Fries
>> Macaroni & Cheese
>> Fried & Rotisserie Chicken
>> Pizza by the Slice
>> Vegetable of the Day
>> Premade Sandwiches