Meat & Seafood Department
A Cut Above the Rest!
You'll love the quality, freshness and variety that we offer in our Meat Department! We cut premium Angus Farms USDA Choice Beef daily, along with top quality pork, Gold'N Plump fresh chicken and Sterling Silver Meats and special cuts and orders are always welcome. You will find a great selection of fresh seafood including fresh fish, salmon and lobster.
Looking for a quick dinner option? We feature Dinner Kits, complete with the seasoned and prepared meats you will need for a delicious meal like Beef & Chicken Fajita Kits, fresh made Kabobs, and a variety of stuffed chicken, pork chops and steaks.
We offer knife sharpening services! Just drop off your knives by noon on Sunday and they will be ready at noon on Monday!
>> Meat Department Hours: 6am – 9pm Daily
>> To speak with a Meat Department specialist, call 952-472-3108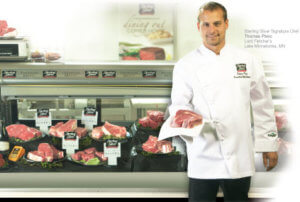 $lice 'N $ave
The next time you're out on the lake and want to barbeque up some delicious steaks, pork chops and ribs, check out our $lice 'N $ave Program! We'll make it easy to buy hamburgers in bulk, slice yourself, or we'll slice it up your choice of meat for you to help you save money on your next purchase!
>> Ask one of our butchers in the Meat Department for details. Call (952) 472-3108.